General Information
Vitamin D is the generic name for a group of closely related steroids. Vitamin D is a hormone rather than a vitamin. The majority of Vitamin D is produced by the action of UV light on 7 dehydrocholesterol in the skin to produce Vitamin D3 - cholecalciferol. A minor proportion comes from food as Vitamin D2-ergocalciferol.
Vitamin D itself is biologically inert. It is metabolised to 25-OH Vitamin D in the liver and thence to the active form 1,25-OH Vitamin D by 1a hydroxylase in the kidneys. In the circulation most of the Vitamin D is bound to Vitamin D binding protein and a smaller amount to albumin.
Vitamin D plays a major role in calcium homeostasis. It increases calcium absorption from the gut, promotes bone mineralisation by provision of calcium, reduces 1a hydroxylase activity in the kidneys and reduces PTH production by the parathyroid glands.
It has other functions that are not as well understood. These include regulation of cellular differentiation and immunomodulation. Measurement of 25-OH-Vitamin D3 assesses the principal storage form of the vitamin.
Causes of low Vitamin D
Reduced production - lack of sunlight
Reduced intake - lack of intake in diet
Reduced absorption - biliary disease
Catabolism - anticonvulsant therapy
Reduced metabolism - chronic renal failure
Inherited diseases
Causes of high Vitamin D
Increased ingestion - diet / iatrogenic
Increased production - granulomatous disease / lymphoma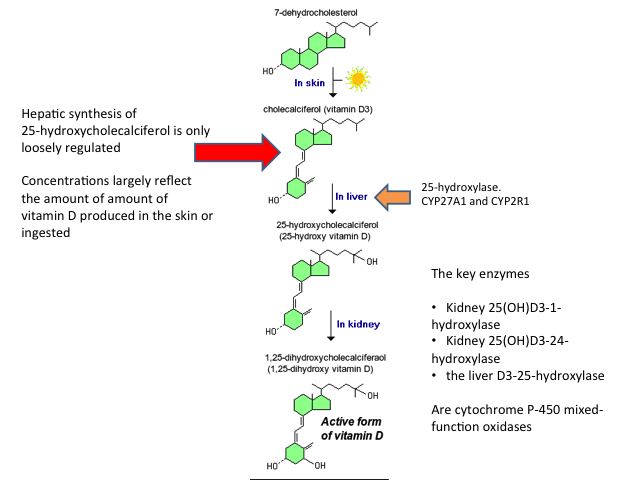 Link to treatment guidelines
http://www.endocrine.org/~/media/endosociety/Files/Publications/Clinical%20Practice%20Guidelines/FINAL-Standalone-Vitamin-D-Guideline.pdf
Measurement of 25-OH Vitamin D at Heartlands
From January 16th 2017 vitamin D will routinely be measured on the automated Abbott platform by the Abbott 2nd generation 25 OH Vitamin D immunoassay. This analysis will be performed at the same time as a UE, LFT, TSh etc and so will significantly reduce turnaround times for these results.
A small number of samples will continue to be analysed by tandem mass spectrometry. These are specifically;
Paediatric samples (<16yrs) and short samples. This is due to the reduced volume requirements of the LCMSMS method.
Samples that are identified as being from patients on vitamin D2 supplements. The immunoassay is known to significantly under-recover on vitamin D2. The vast majority of patients only have vitamin D3 in their blood and so this will not affect them. Only patients on vitamin D2 supplements have significant concentrations of vitamin D2 and so only these patients require mass spectrometry analysis. The immunoassay and LC-MSMS methods show good correlation between total vitamin D results in patients not on D2 supplements.
Vitamin D analysis by mass spectrometry can be requested in the above cases on ICE and by manually requesting "VITDMS" in the test request section of the form.
Biological variation of vitamin D within subject has been reported to be 12% and critical difference for sequential values calculated as 38.4% (https://www.ncbi.nlm.nih.gov/pubmed/21438007)
Analytical quality goals for 25-vitamin D based on biological variation. - PubMed - NCBI J Clin Lab Anal. 2011;25(2):130-3. doi: 10.1002/jcla.20446. Viljoen A1, Singh DK, Farrington K, Twomey PJ
Reference Range
<15 nmol/L - Severe vitamin D deficiency
15-30 nmol/L - Vitamin D deficiency,
30-50 nmol/L - Vitamin D insufficiency,
>50 nmol/L - Adequate vitamin D status.
Signs of vitamin D toxicity maybe seen at levels greater than 140nmol/L
Source of ranges =